VA Launches VRRAP for Unemployed Veterans Because of the COVID-19 Pandemic
The Department of Veterans Affairs s preparing to launch the Veteran Rapid Retraining Assistance Program (VRRAP) as part of its continued effort to support Veterans seeking education and training for high-demand job opportunities in response to the effects of the COVID-19 pandemic. The VRRAP was part of the American Rescue Plan, a $1.9 trillion economic stimulus package, with aid targeted to assist individuals and businesses recover from the effects of the COVID-19 pandemic.
VRRAP covers education and training programs approved under the GI Bill and Veteran Employment Through Technology Education Courses (VET TEC) that lead to high-demand jobs. These include associate degrees, non-college degrees, and certificate programs. The Department of Labor determines what's considered a high-demand job for VRRAP.
---
According to the VA website, to qualify, a Veteran must be:
At least 22 years old, but not older than 66, and
Unemployed because of the COVID-19 pandemic, and
Not eligible for GI Bill or VR&E benefits (or, if you're eligible for the Post-9/11 GI Bill, you've transferred all of your benefits to family members), and
Not rated as totally disabled because you can't work, and
Not enrolled in federal or state jobs programs, and
Not receiving unemployment benefits (including CARES Act benefits)
If you meet all the above requirements you should apply right away with the VA!  Apply Now!
---
The VRRAP doesn't apply to plans at a 4-year school. It has to be a VA-approved plan at a technical school or community college. The funds go right to the vet every month and she or he is responsible for paying all educational charges. Intellectual Point is proud to be approved to support the VRRAP program and would love to help you get started today! If you have any questions please give us a call at (703) 554-3827.
Read more about how to get started
Don't wait to apply because VRRAP will only be available until December 11, 2022. They will stop making payments on this date—or when we reach either the $386 million funding limit or the 17,250 participant limit.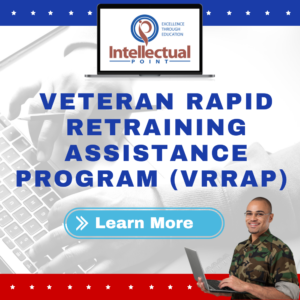 GI Bill® is a registered trademark of the U.S. Department of Veterans Affairs (VA). All training for the VRRAP program will be located in our Sterling Office 46175 Westlake Drive,  Suite 250, Sterling, VA 20165.