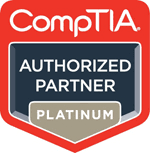 Intellectual Point Continues Its Platinum Status as a CompTIA Partner
As a leading provider of IT and business training, Intellectual Point proudly continues its commitment to providing top-quality IT education and full career lifecycle support to professionals nationwide. In recognition of our commitment and dedication to delivering the best possible training and resources to its customers, Intellectual Point has earned its status as a platinum-level partner with CompTIA, one of the top trade associations for the IT industry.
CompTIA's Platinum Partnership is the highest level of partnership available. With this partnership, Intellectual Point has access to all of CompTIA's available resources, guaranteeing our ability to provide our clients with the latest industry-leading training and certifications.
Earning this milestone in our relationship with CompTIA means that all of our CompTIA instructors are certified in the CompTIA course(s) they teach. Additionally, it means that Intellectual Point delivers official CompTIA instructional resources to our clients, as well as discounts on CompTIA exam vouchers.
Intellectual Point vows to continue its efforts in retaining our status as a Platinum Partner by maintaining consistency in providing quality training, exemplary customer service, and up-to-date resources to support clients embarking on their emerging IT careers.
CompTIA Advanced Security Practitioner (CASP+)
CompTIA Cyber Security Analyst Training (CySA+)
CompTIA IT Fundamentals (ITF+)