What is Cybersecurity Mesh?
You can create a Cybersecurity Mesh by designing and implementing an IT security infrastructure that is not focused on building a single 'perimeter' around all devices or nodes of an IT network, but instead you create a smaller individual perimeter around each access point. This is a horizontal approach to a network rather than a traditional top-bottom approach. In the mesh, the access points can be managed from a centralized point of authority. This Cybersecurity Mesh can establish a more robust and flexible approach to a network's security. When each node has its own perimeter the IT network manager can maintain and track different levels of access to various parts of a given network.
"As anywhere operations continues to evolve, the cybersecurity mesh will become the most practical approach to ensure secure access to, and use of, cloud-located applications and distributed data from uncontrolled devices." – Brian Burke, research vice president at Gartner.
Top Benefits of the Cybersecurity Mesh
Redefines cybersecurity perimeter around the identity of a person or thing
Distributed architectural approach = scalable, flexible & reliable cybersecurity control
Prevents hackers from exploiting different parts of a given network
More standardized responsive security approach
Gartner predicts that by 2025, cybersecurity mesh will support more than 50% of digital access control requests.
How will the Cybersecurity Mesh Affect IT Development?
A Cybersecurity Mesh approach involves a complete reconfiguration of the 'walled cities' approach around a network. This Cybersecurity Mesh needs to be established in the planning stage to ensure that the developer team takes active steps to mitigate cybersecurity threats on their own networks.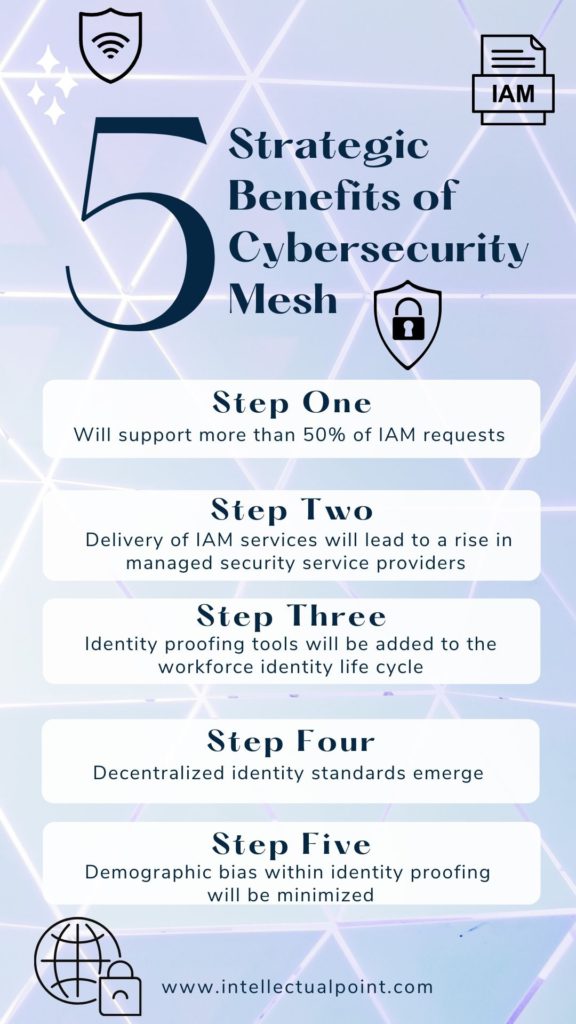 Want to learn more about computers and their networks?
The CompTIA Network certification is an internationally recognized validation of the technical knowledge required of foundation-level IT network practitioners. The CompTIA Network certification ensures that the successful candidate has the important knowledge and skills necessary to manage, maintain, troubleshoot, install, operate and configure basic network infrastructure, describe networking technologies, basic design principles, and adhere to wiring standards and use testing tools.
What you will learn?
Networking concepts
Infrastructure
Networking operations
Network security
Network troubleshooting and tools
What are your Career Options?
System Administrator
IT Manager
Network Administrator
The CompTIA Security certification designates knowledgeable professionals in the field of security, one of the fastest-growing fields in IT. The CompTIA Security certification prep course is designed to provide information technology professionals with the base knowledge on industry-wide topics including communication security, infrastructure security, cryptography, access control, authentication, external attack, and operational and organization security.
What will you learn?
Threats, attacks, and vulnerabilities
Identity and access management
Risk management
Network architecture and design
Cryptography and KPI
What are your Career Options?
Cybersecurity Analyst
Security Engineer
Security Consultant

Achieving CCNA certification is the first step in preparing for a career in IT technologies. To earn CCNA certification, you pass one exam that covers a broad range of fundamentals for IT careers, based on the latest networking technologies, software development skills, and job roles.
What you will learn?
Network fundamentals
Network access
IP connectivity
IP services
Security fundamentals
Automation and programmability
What are your Career Options?
Network engineers
Network administrators
Systems administrators
System engineers
IT managers/ directors