Check Out These Two New ISACA Certification Classes at Intellectual Point!
Are you a technical professional who wants to help organizations mitigate risks and optimize ROI in the cloud? Certificate of Cloud Auditing Knowledge™ (CCAK™) is the first-ever, technical, vendor-neutral credential for cloud auditing. There are no prerequisites to take the CCAK exam. Prior experience in IT audit, security, risk, or cloud computing is essential to pass the CCAK exam.
The Certified Data Privacy Solutions Engineer (CDPSE) certification focuses on the implementation of privacy solutions, from both a technical and governance perspective. You must have 5 years of work experience performing the work described within the exam content outline; experience must be earned in a minimum of two CDPSE Exam Content Outline Domains; and experience waivers: Holding one of the following certifications: CISA, CISM, CGEIT, CRISC, CSX-P, FIP reduces the work experience requirements to 3 years.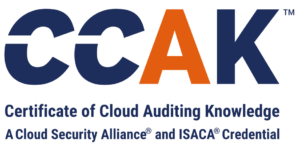 Introducing the Certificate of Cloud Auditing Knowledge™(CCAK™), brought to you by Cloud Security Alliance®(CSA), a global leader in cloud security research, training, and credentialing, and ISACA® a global leader in training, education, and certification for IS/IT professionals. This certificate fills a gap in the market for vendor-neutral, technical education for IT audit, security, and risk professionals to help their organizations reap the full benefits of cloud environments.
What You Will Learn:
Assessment: Understand the difference in assessing and auditing cloud environments versus traditional IT infrastructure & services.
Evaluation: Discover how to use cloud security assessment methods and techniques to evaluate a cloud service prior to and during the provision of the service.
Governance: Learn how existing governance policies and frameworks are affected by the introduction of the cloud into the ecosystem.
Compliance: Understand the unique requirements of compliance in the cloud due to shared responsibility between cloud providers and customers.
Internal Security: Learn how to use a cloud-specific security controls framework to ensure security within your organization.
Continuous Monitoring: Architect in a way that allows you to measure control effectiveness through metrics and ultimately leads to continuous monitoring.
CCAK IS IDEAL FOR THESE ROLES:
Internal and External Assessors and Auditors
Third-Party Assessors and Auditors
Security Analysts & Architects
Cybersecurity Lead/Architect
Compliance Managers
Vendor/Partners Program Managers
Procurement Officers
Security and Privacy Consultants

CDPSE provides a valid and reliable means for enterprises to identify technologists who are competent in incorporating privacy by design into technology platforms, products and processes, communicating with legal professionals, and keeping the organization compliant efficiently and cost-effectively. CDPSE proves your team has the technical skills and knowledge it takes to assess, build and implement a comprehensive privacy solution while enhancing business value, customer insights, and trust—ultimately improving your organization's image.
CERTIFIED DATA PRIVACY SOLUTIONS ENGINEER (CDPSE) is focused on validating the technical skills and knowledge it takes to assess, build and implement comprehensive privacy solutions. CDPSE holders can fill the technical privacy skills gap so that your organization has competent privacy technologists to build and implement solutions that mitigate risk and enhance efficiency.
IT professionals who have a least 3 years of experience in all of the following domains:
Privacy Governance
Privacy Architecture
Data Lifecycle
What You Will Learn:
Address three main domains of CDPSE: Privacy Governance, Privacy Architecture, and Data Lifecycle.
Validate your experience and ability to work cross-functionally with legal, policy, database administrators, engineers, software developers, and back-end and front-end experts.
Affirm your skills in understanding compliance requirements and their ability to implement the right privacy controls.
Focus on technical implementation and privacy best practices
CDPSE IS IDEAL FOR THESE ROLES:
Consultant
Data Scientist
IS Engineer User Data Protection
Privacy Advisor/Manager
Privacy Solutions Architect
Data Analyst
Domain Architect Legal Care/Compliance/Privacy
IT Project Manager
Privacy Analyst/Engineer
Software Engineer