Why Get Amazon Web Services (AWS) Certified Solutions Architect – Associate Certified?
Amazon has infiltrated almost every aspect of consumerism, but what many people don't know is that 57% percent of Amazon's total operating income comes from its cloud computing solution – Amazon Web Services.
Amazon is the established industry leader in cloud computing with more than 30% of the global market share in cloud solutions. Over the last fiscal year, driven by a host of market and economic conditions, spending on cloud infrastructure grew by 33%. That year-over-year growth is tremendous and now is the time to pursue your AWS Certified Solutions Architect credential.
As more enterprises steer their business towards the cloud for security, cost optimizations, and business continuity, the need for cloud solutions specialists continues to skyrocket. These in-demand roles need to be filled faster than qualified candidates are entering the workforce.
Intellectual Point's intensive, 4-day weekend AWS Certification program will set you up for success by delivering best-in-class training, hands-on experience, and preparation for the certification exam.
But that's not all, after you complete your class and receive your certification, we will support your career transition objectives with access to our professional resume writers and connection to prospective employers who NEED your expertise.
So, what do Solutions Architects actually do? Well, they: 
Design highly available and/or fault-tolerant architectures, decoupling mechanisms using AWS services, appropriate resilient storage
Identify elastic and scalable compute solutions for a workload, scalable storage solutions, workload and database solutions
Design secure access to AWS resources, secure application tiers, and data security options
Identify cost-effective storage solutions, compute and database services, and network architectures
Throughout the course of the program, you will learn from industry experts how to effectively and efficiently deploy smart, scalable solutions and apply your knowledge in real-world scenarios.
Not only is there an abundance of positions to be filled, but the income potential associated with AWS Certified Solutions Architect also starts attractively and comfortably in the $60-$80k range with little experience, and those with more advanced expertise can earn a national average of $143k. See the salary chart below for an AWS Solutions Architect with just a few years of experience: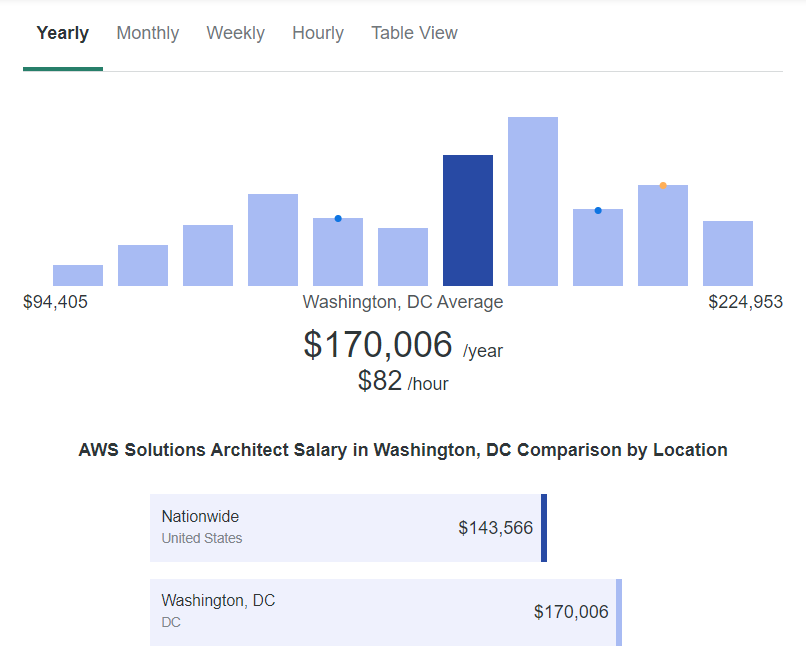 With more than 30,000 positions currently available and many more opening every day, the cloud is the limit.