Introducing Certified Cloud Security Engineer (C|CSE)
EC-Council's Certified Cloud Security Engineer (C|CSE) course is curated by cloud security professionals in association with renowned subject matter experts to deliver a mix of vendor-neutral and vendor-specific cloud security concepts. The vendor-neutral concepts focus on cloud security practices, technologies, frameworks, and principles. In contrast, the vendor-specific materials deliver the practical skills that are needed to configure specific platforms, such as Amazon Web Services (AWS), Azure, and Google Cloud Platform (GCP). This offers candidates a well-balanced mix of theoretical and practical skills. In addition, advanced topics also cover modules on securing the cloud infrastructure by implementing regulations and standards to maintain security. EC-Council's cloud security course is mapped to the real-time job roles and responsibilities of cloud security professionals and is ideal for beginners as well as experienced cybersecurity professionals.
Cloud computing has become mainstream and is growing in importance for all organizations. Most organizations use cloud infrastructure or services, whether software as a service (SaaS), platform as a service (PaaS), or infrastructure as a service (IaaS), and each of these deployment models has its own, complex security considerations. Cloud systems are at risk from exposure and are prime targets for attackers. There are three primary types of cloud environments—public clouds, private clouds, and hybrid clouds. These three environments offer different types of security configurations, based on the shared responsibility model.
Who Should Earn a Cloud Security Certification?
Network security engineers
Cybersecurity analysts
Network security analysts
Cloud administrators and engineers
Network security administrators
Cloud analysts
Cybersecurity engineers
Those working in network and cloud management and operations
Why Should You Take Certified Cloud Security Engineer (C|CSE)
Hands-on training in creating and implementing security policies to safeguard cloud infrastructure and applications.
Offers a blend of vendor-neutral and vendor-specific concepts (AWS, Azure, and GCP).
Learn best practices for securing cloud infrastructure through evaluating cloud storage techniques and threats, configuring cloud services, designing and implementing incident response plans, and auditing cloud computing security.
Learn security orchestration, automation, and response (SOAR), which security operations teams collect and analyze to create incident analysis reports and automate incident response in the cloud.
Learn skills to design and implement governance frameworks, models, and regulations (ISO/IEC 27017, HIPAA, and PCI DSS).
Learn how to use the tools and techniques to perform forensics investigations on cloud platforms such as AWS, Azure, and GCP. Participants learn forensic methods and how they can be automated to identify and investigate vulnerabilities and threats.
Learn how to implement standards through features, services, and tools for regulation and audits of AWS, Azure, and GCP.
Work in a simulated environment with 50 complex labs to train learners to tackle real-world industry-level challenges for cloud security professional roles.

What you will learn with Certified Cloud Security Engineer (C|CSE)
The fundamentals of cloud security in a vendor-neutral environment
---
How to use tools and techniques to configure public cloud providers such as AWS, Azure, and GCP
---
How to design and maintain a secure cloud environment
---
The knowledge and skills to protect, detect, and respond to cloud network infrastructure threats
---
How to design and implement business continuity and disaster recovery plans
---
How to perform a cloud security audit and penetration testing
C|CSE Exam Details
Exam Title: Certified Cloud Security Engineer
Exam Code: 312-40
Number of Questions: 125
Duration: 4 hours
Availability: EC-Council Exam Portal
Test Format: Multiple Choice
Recommended Prerequisites
Have working knowledge in network security management
Basic understanding of cloud computing concepts
You will need an account (preferably, a new free tier account) on AWS, Azure, and GCP cloud services to perform labs.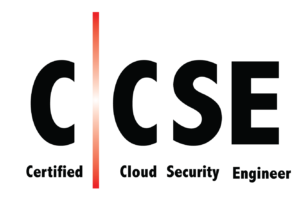 Ready to learn about Cloud Security?
Certified Cloud Security Engineer (C|CSE)