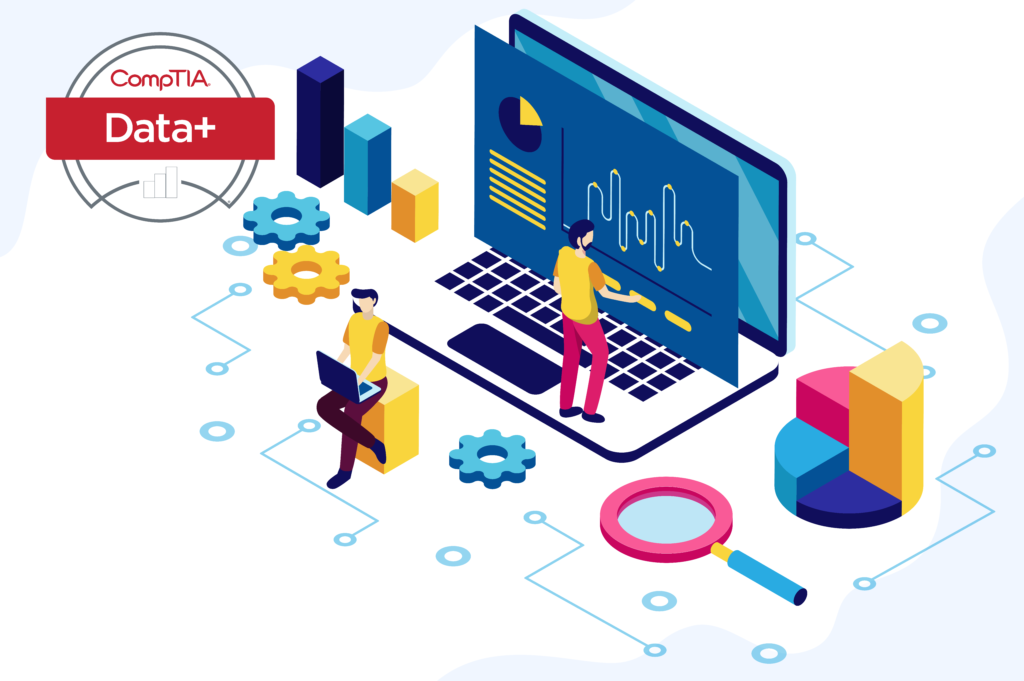 Closing the Data Skills Gap with CompTIA Data+
CompTIA Data+ is an early-career data analytics certification for professionals tasked with developing and promoting data-driven business decision-making. Data+ is an ideal certification for not only data-specific careers but other career paths outside of IT can also benefit from analytics processes and data analytics knowledge.
Data+ ensures professionals have the confidence to bring data analysis to life. Data+ arms candidates with foundational, tool-agnostic data skills that help organizations listen and make critical business decisions. Candidates who can effectively analyze data and validate those skills with an industry-recognized certification could be considered an invaluable asset to any team.
Sample Job Titles
Data Analyst
Clinical Analyst
Reporting Analyst
Marketing Analyst
Business Data Analyst
Operation Analyst
Business Intelligence Analyst
Job Description
Any role that analyzes business-specific data. Individuals likely report data analytics to management on a regular basis on business functions. They analyze and monitor dashboards, results, and trends. Data is an asset for all businesses. The CompTIA Data+ helps you better understand how to organize, mine, and analyze data. It helps individuals who have high exposure to data have the confidence to interpret insights from data and communicate those insights in a way that helps the business. 
Data Skills
Microsoft excel
Exposure to specialized tools like Tableau or PowerBI
Can create visualizations
Actively reports on the status of performance
Manipulates data
Data-curious
Industries
Finance
Healthcare
Marketing
Retail
Technology
Business Functions
Vendor Neutral
CompTIA Data+ is the only data analyst certification that covers baseline data analytics skills, assesses hands-on abilities, and is vendor-neutral. Vendor-neutral certifications provide analyst skills needed to perform various job roles regardless of the specific programs and tools being used. Compare this to vendor-specific certifications, which equip your team to work with just one platform (such as SAS, Tableau, or Microsoft).
CompTIA Data+ Domains
1.0 Data Concepts and Environments (15%)
2.0 Data Mining (25%)
3.0 Data Analysis (23%)
4.0 Visualization (23%)
5.0 Data Governance, Quality, and Controls (14%)
Certification Details
The CompTIA Data+ exam will certify the successful candidate has the knowledge and skills required to transform business requirements in support of data-driven decisions through mining and manipulating data, applying basic statistical methods, and analyzing complex datasets while adhering to governance and quality standards throughout the entire data life cycle.
Number of Questions: 90
Types of Questions: Multiple choice and performance-based
Passing Score: 675 (on a scale of 100-900)
Recommended Experience: CompTIA recommends 18–24 months of experience in a report/business analyst job role, exposure to databases and analytical tools, a basic understanding of statistics, and data visualization experience
Learn More About CompTIA Data+
CompTIA New Data Analytics Certification
Why you Need to Learn Big Data Right Away!