Get a Custom URL
When you create a profile, LinkedIn automatically assigns you a string of numbers as a URL. But you can (and should) set a custom URL instead. Make sure your URL is easy for you to remember and share (because you should be sharing it a lot). Most commonly people will use their name and initials in some format, though you might need to get creative or add numbers if you have a more common name. You can also add key certifications like CPA (Certified Public Accountant) or PMP (Project Management Professional) to better optimize your profile.
Add a Cover Photo That Reflects You
The blank banner above your profile picture is where your cover photo goes. It's the very first thing on your page, so you want to make a good impression with it. But you can also use a picture of yourself doing your job or customize a banner with words. You can add your personal website URL, a few of your key strengths, the services you offer, or even a meaningful quote. Just keep it professional.
If you want a hand designing a cover photo, Canva has free, customizable LinkedIn banner templates. You can also find free stock photos to use as your background or a lower effort way to get rid of the plain gray box at the top of your page.
Example of an awesome Intellectual Point student. Originally he had a picture of himself at a restaurant, yet now he has a nice, polished, and professional look: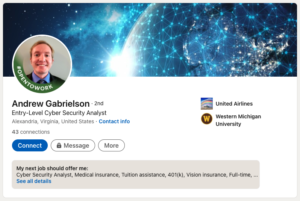 Choose a Professional Profile Picture—or Take a New One
If you need a new picture, don't overcomplicate it: Get in front of a blank wall and take a picture. You should be smiling and facing a natural light source (like a window). Look at the camera. If the person who finds your profile can't see your eyes it's hard "to connect beyond the screen." Finally, according to LinkedIn, you should aim for your face to take up about 60% of the image once it is cropped.
Write a Headline That Rocks
Your headline is not just your job title. Instead, use that space to concisely communicate the core of who you are as a professional in a sentence or a few phrases. The more specific you can be about what sets you apart from the competition, the better. Try to write something encompassing your professional career identity—who you are and where you want to go.
Sample Headline:
Entry-Level Cyber Security Analyst Fortifying Enterprise Security by Implementing Effective Cyber Security Methods, Superior Communication Skills, and Industry Best Practices
Junior SOC Analyst Presenting a Global Scope of Military and Civilian Experience. Recently Attained Leading-Edge Certifications, Laboratory, and Classroom Training, and Hands-On Preparation to Perform Security Investigations.
United States Veteran Leveraging Proven Success in Transforming Enterprises by Business Process Re-engineering, Innovative Solutions, and Entrepreneurial Vision. Transitioning to IT with a Specialization in Cyber Security.
Include a Current Job Entry, Even When Unemployed
When recruiters search on LinkedIn, one of the pieces of information the platform uses to return results is your current position—and if you don't have one, you might not appear. So, if you don't currently have a job, you should add the position or positions you're looking for, but add a line in the spot usually reserved for the company name that makes it clear you're not saying you're employed, like "Seeking New Opportunity" or similar.
Complete Your Intro
Don't forget to fill out the smaller sections of your profile intro when applicable. They include:
Former name: Use this section (if you're comfortable with it!) to be searchable by names you no longer go by, such as a maiden name. You can also select who your past names are visible to.
Name pronunciation: LinkedIn first introduced this feature through its mobile app. You might consider using it if you have a long, uncommon, or difficult-to-pronounce name.
Location: If LinkedIn gives you the option, we recommend using a metropolitan area here over a suburb or smaller city so that you show up in more searches. If you're relocating, you can list your target city and expand in your summary.
Industry: You can only pick one, so if you don't have your search narrowed down to one specific industry, you can talk about additional ones in your summary.
Contact info: You should definitely add your email address here so that recruiters can reach you, but phone numbers and addresses are more common for those selling services on LinkedIn than for individual job seekers. When it comes to adding additional social media platforms, you should only add them if they're professional and relevant to your job.
Use Your Summary Wisely
Your summary or "About" section is where you can really show your personality and share your story. And it doesn't need to be complicated.
Here's how you might structure it:
Introduce yourself. Who are you as a professional and what do you do? What value do you bring to the organizations you work for?
Highlight your key skills, experiences, and achievements in paragraph form or a bulleted list.
Call the reader to action by asking them to connect with you to discuss growth marketing, contact you about job or speaking opportunities, or do whatever you're currently looking to get from your LinkedIn profile.
Entry-Level Cyber Security Example:
As a solution and action-oriented IT professional, I leverage superior qualifications, credentials, and a strong transferable skill set for an entry-level position in cyber security. I recently obtained highly sought-after certifications in cyber warfare, including a CompTIA Security+ Certification and a Certified Ethical Hacker designation.
I am highly knowledgeable of DoD cyber security policies, procedures, and practices, including the disciplines of cyber security testing, evaluation, validation, and verification of traditional and non-traditional information systems. I identify and triage security events, collaborate with the incident response team, monitor security operations, perform threat hunting activities, and execute risk analysis initiatives to harden agency systems. Currently, I am interested in entry-level cyber security opportunities with upward mobility, mentorship, and professional development.
Entry-Level CCNA Example:
As a highly credentialed, prepared, and successful professional championing next-generation technologies, knowledge of DoD cyber security procedures, and a competitive edge for transitioning into a civilian/corporate IT position after a successful military career. Recently, I took the leadership initiative to earn a CompTIA Security+ Certification as well as a CCNA designation from Intellectual Point's educational Vet Tec program. I also earned a bachelor's degree in Information Technology to make value-added contributions to the field with comprehensive knowledge. In doing so, I attained hands-on experience in security monitoring, incident response, and risk mitigation strategies. Interested in cyber security and network/sysadmin opportunities with upward mobility, professional development, and career advancement.
Entry-Level AWS Solutions Architect:
As a distinguished US veteran seeking a transition into a civilian IT career, I offer a specialization in cloud security. I am interested in learning how to serve as a technical project resource and support the implementation of the customer's application systems to the Amazon Cloud. I'm staying abreast of new and emerging technologies across multiple domains, in preparation for a new career.
I am seeking mentorship on the design, implementation, and development of solutions for our cloud environments, along with mastering all aspects of security and technology, including policies, standards, and regulatory requirements.
Currently, I am interested in having the opportunity to investigate the potential impact of emerging technologies and architectures and communicate findings to senior security leaders. I gain hands-on experience with deploying, testing, and managing enterprise applications to the cloud, and am seeking a junior/entry-level position in an innovative company.
Show Off Your Expertise or Best Work in the Features Section
Just below the "About" section is the "Featured" section, which allows you to showcase media, links, and LinkedIn articles and posts at the top of your profile. Sharing the work or mentions that are most relevant to your personal brand and LinkedIn goals is a great opportunity to show your skills in action, Wasserman says. If you have an online portfolio, the "Featured" section is a great, highly visible spot to link to it.
Tailor Your Experience
While your resume should be tailored to each individual job you apply to, your LinkedIn profile should be tailored to the industry you work in or want to work in as well as the role you have or the type of role you're hoping to land.
In your descriptions, emphasize the elements of your past experiences that are most relevant to the types of jobs you want. You can also include relevant volunteer work or school projects both in your experience section and the dedicated "Volunteer experience" and "Education" sections lower down on your profile.
Use Strong Accomplishment-Driven Descriptions
In some ways, you can approach your LinkedIn profile as you would your resume: Rather than just listing your job duties under each entry in your experience section, you should be detailing your accomplishments.
Each of your bullet points should describe not only what you did in your past jobs, but also how you did it, what the results were, and how it impacted your team or company. Whenever you can, include keywords to show what vital skills you used and when.
And quantify your experiences and achievements. Numbers will help recruiters see the scope of your work and make your accomplishments feel more specific.
Sample bullet points to convey achievements in certification programs:
Earned CompTIA Security+ Certification to gain proficiency in assessing the security posture of an enterprise environment, implement security solutions, comply with regulations and policies, as well as efficiently and effectively respond to security events and incidents.
Acquired the Certified Ethical Hacker designation to prevent cybercrimes and data breaches committed by malicious hackers. Garnered ability to identify weaknesses and vulnerabilities in target systems. Able to perform hacking in a lawful and legitimate manner to assess the security posture from a vendor-neutral perspective.
Achieved the Cisco Certified Network Associate (CCNA) designation to support operational needs of IT users, systems, and infrastructure, including but not limited to servers, data network equipment, application load balancers, storage and backup systems, and virtualization components for cloud services.
Other cyber security bullet samples:
Demonstrate basic knowledge of cyber warfare through security monitoring, incident response, and risk mitigation strategies. Reduce vulnerabilities by implementing secure network administration rules.
Trained in leading-edge security operations tools such as vulnerability management, firewalls, antivirus, and email protection solutions, incident response, intrusion and data loss prevention, and threat management. Able to monitor system dashboards and logs for threat indicators.
Identify and triage security events, collaborate with the incident response team, monitor security operations, perform threat hunting activities, and execute risk analysis initiatives to harden agency systems.
AWS Sample Bullets:
Assess current state and maturity levels of existing security infrastructures, frameworks, methodologies, platforms, while also helping to remediate gaps and eliminate vulnerabilities.
Display understanding of API integration and management (gateways), monitor workloads and create application dashboards in the cloud.
Garner's fundamental knowledge of cloud identity and access management (IAM), as well as enterprise compliance.
Deliver a full stack of integrated cloud capabilities like data, integrated infrastructure and applications, and deep ecosystem skills in a culture of change with pre-configured industry solutions.
Serve as a primary point-of-contact and key liaison between technical and non-technical personnel with a keen ability to translate complex terminology and project requirements into a tangible language.
Transferable Skills:
Pursue continuous education in cyber security methodologies through training sessions, certification programs, and seminars to boost knowledge of new and emerging security products, vendors, techniques, and procedures.
Serve as a primary point-of-contact and key liaison between technical and non-technical personnel with a keen ability to translate complex terminology and project requirements into a tangible language.
Respected as a fast learner in identifying, analyzing, and remediating current and emerging vulnerabilities and threats with knowledge of key business and technological processes.
Excel in executing effectual threat analysis, uncovering security vulnerabilities, executing remediation, reviewing policy, and ensuring business continuity with a leading-edge approach to disaster recovery and backup monitoring.
Add Links and Media to Your Work Experience
You can add links, images, videos, and files to the entries in your "Experience" section as well as your "Featured" section. So use this to your advantage: Link to your company websites, projects you've worked on, articles or reports you've published, or anything else that can let recruiters see the work you're writing about with their own eyes.
Make Sure Your Resume and LinkedIn Match
Your resume and LinkedIn don't have to be identical. But your past positions, companies, degrees, and licenses and certifications should match up—and so should the dates. Do not contradict yourself. You don't want hiring managers to think you're being dishonest.
Add Licenses, Certifications, Projects, Volunteer Experiences, Accomplishments, or Languages
Underneath your work experience and education are additional spaces to show off your background and qualifications. Are you fluent in another language? Did you win a well-known award or write an article for a well-known publication in your industry? Are you licensed to practice in multiple states? Adding this information to your profile is a great way to showcase what makes you unique and helps you get in some additional keywords as well. But remember that if these skills and experiences are important to landing your next job, you should also try to work them into an earlier section.
Add Your Skills—Everywhere
Tout your skills throughout your profile—not just in the "Skills & Endorsements" section. As mentioned earlier, you should put them in the context in your experience section, but make sure that your most relevant and marketable skills also appear in your summary and headline. And you should even try to get them into your recommendations (more on that below).
In the "Skills & endorsements" section itself, you can have up to 50 skills, but profile viewers can only see your top three, so choose the most important ones for these slots. You can also get other people in your network to vouch for your abilities.
Risk Mitigation
Business Continuity
Network Security and Integrity
Threat Detection and Mitigation
Security Policy
Incident Reporting
Interdisciplinary Teamwork
Cloud Security Best Practices
Attack Remediation Plans
Vulnerability Management Technologies
Incident Response Technologies
Effective Communication
Network Security Analysis
Troubleshooting and Diagnostics
Data Integrity
AWS Cloud Infrastructure and Service Selection
The system, Platform, and Account Migrations
Virtual Environment Design and Implementation
Authentication Systems
Data Storage Fundamentals
Vendor Management
Seek Out Strong, Relevant, and Recent Recommendations
Recommendations really enhance the credibility of who you are as a professional. You can ask people you've worked closely with for recommendations, but "be sure to give that person talking points that help shape the story you want your profile to tell." Your recommender should know what your goals are for your next career steps as well as what skills and experiences you'd like them to emphasize. And keep your recommendations current.
And Give Recommendations in Return
The best way to get a recommendation is to give one. If you write a recommendation for a colleague, they're likely to return the favor. Plus, it's good practice to help out the people in your network.
Don't Forget About Your "Interests" Section
The "Interests" section all the way at the bottom of your profile is often overlooked, but it's the secret to getting interesting—and shareable—content into your LinkedIn feed. LinkedIn will show you posts about topics in your "Interests" section and you can share and comment on these posts, or use them to find other professionals you'd like to network with.
Top LinkedIn Tips to Optimize Your Profile