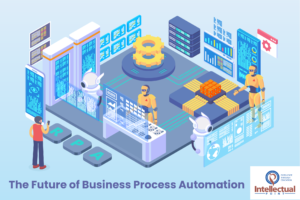 If you've imagined yourself managing sophisticated IT processes, becoming an invaluable resource to your organization, and being part of the revolution of how businesses do business, a UiPath RPA Associate certificate might be the perfect fit for you.
96%. That is the current job satisfaction rating for RPA associates, surveyed across 84 different countries. With a shortfall of nearly 70,000 positions nationwide, opportunities are abundant and the comprehensive training from Intellectual Point will have you on your way in as few as 4 days.
The Future of Business Process Automation
Order Processing. Incoming email queries. Invoicing. Payroll. Data Transfer. These predictable, logical, repetitive business processes are tailor-made for the implementation of Robotic Process Automation – or RPA. With globalization, virtualization, and pandemic-inspired shifts in business processes, optimizing productivity, reducing labor costs, and prioritizing workflow functionality is imperative.
The future of business process automation is here. And RPA is it.
Intellectual Point has partnered with UiPath – an industry leader in RPA solutions – to provide the robust, hands-on, instructor-led 4-day intensive classes to take our students from aspirational to professional. UiPath is pioneering the RPA space and they are not only the industry leader in process automation but thought leadership as well. They are working to redefine business to adapt to a rapidly changing global workspace.
The UiPath RPA Associate training assumes minimal existing IT knowledge. A basic understanding of coding and API is useful but certainly not essential. The comprehensive, intensive, 4-day program provides the essential foundational knowledge and certification preparation to immediately begin pursuing positions as an RPA Associate.
So what exactly is RPA? In its simplest form, RPA 'trains' robots to complete routine business processes that are often cumbersome, time-consuming, and inefficient for humans to perform. Any standard process that is rule-driven and logical and requires no human discretion is an ideal candidate for an RPA model. The UiPath Studio is a highly customizable graphic interface, providing essentially a drag and drop configuration model which allows for programs to interact and share data across APIs. The best part about that is the 'robots' never sleep and never make a mistake.
RPA is an emerging technology, and according to Gartner, this market segment experienced market growth of more than 63% for 2018. Given this rapid growth, the industry has seen a host of new companies in this space, some of which offer a strong market presence, financial stability, and a robust partner ecosystem— all indicators of long-term viability.
Here's a quick synopsis of how enterprises develop their RPA plan:
This is an oversimplification, of course, but the conceptualization is accurate. The push for corporations to increase efficiency, reduce labor costs, and optimize accuracy lends itself naturally to the implementation of an RPA solution.  According to UiPath SVP Tom Clancy (sidestepping Hunt for Red October joke here):
There's never been greater demand amongst businesses to accelerate digital transformation efforts for business agility and continuity. RPA has proven itself as a technology that enables businesses to be agile, flexible, and efficient. It's not surprising to see RPA professionals in greater demand than ever before.  Through training programs and community conferences like DevCon, we're committed to empowering people from around the world with the RPA skills they need to fill these demands and succeed in the workplace of the future.
In 2018, RPA jobs experienced 63% growth and that figure is going to remain steady or increase in the coming years. This field is rich with opportunity. Even as an entry-level RPA Associate (on the trajectory to becoming a Developer or Engineer) the median national salary is very attractive. Here is a salary table for RPA Associates, courtesy of ziprecruiter.com: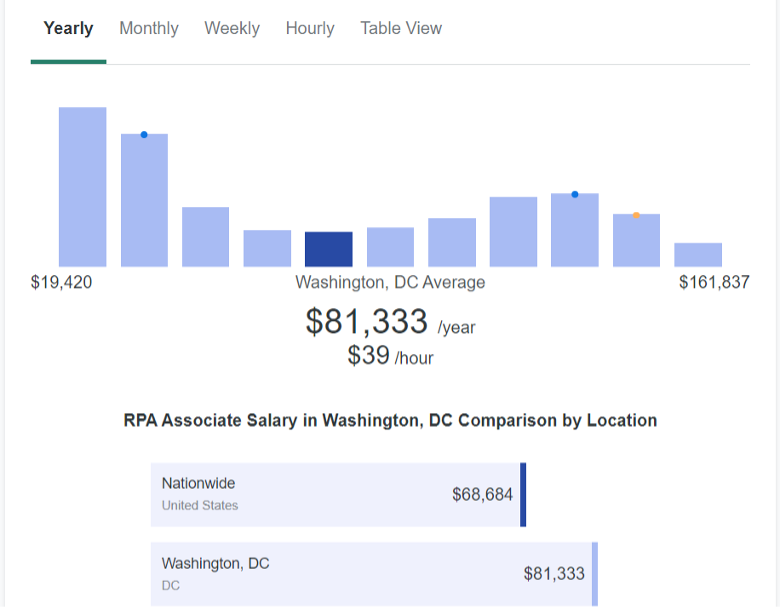 If you're eager to pursue a lucrative and fulfilling career in an emerging IT field with virtually limitless growth potential and is fairly easy to break into, consider the UiPath RPA Associate training with Intellectual Point. Together, we have the resources and experience to put you a track towards a more rewarding career. We provide the full solution package: training, certification testing, a career transition assistance including a resume refresh. Our success is defined by your success. We put the entire wealth of our experience behind helping you get where you want to go.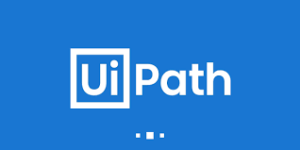 To learn more about Intellectual Point's UiPath RPA Associate program, click here.