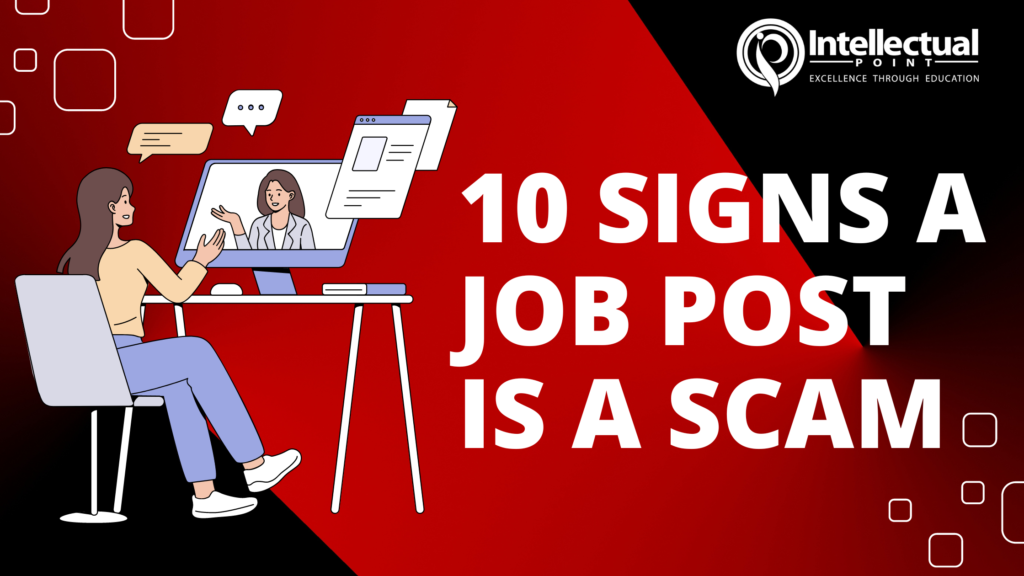 10 Signs a Job Post is a Scam
By contributors Tyler Daniels & Lyan Ware

You didn't apply to the job
You might get contacted by someone who says that they found your resume and think you'd be a perfect fit for the job. While this does legitimately happen on occasion, please keep in mind that there is a lot of competition in the job market, so the need to cold call potential applicants for open positions yields a need for caution. If it's from a legitimate organization, you have to wonder why they're so desperate to fill positions that they need to actively seek candidates versus just listing the position on a jobs board. Do they have a high turnover rate? Why are people leaving the company? Be sure to listen carefully to the person's sales pitch and do your own research into the company if you're offered a job for a listing you didn't apply for.
 Grammatical errors and typos
If you feel the wording of the correspondence and job description is a bit off, there's a good chance that it might be a scam. It may be overly formal and awkward, or it could be full of grammar mistakes and punctuation errors. Starting off a sentence with "Kindly" is a frequent red flag in correspondence. One or two typos aren't necessarily a reason to label it a scam, but professional companies do their best to perfect their phrasing and prevent typos when corresponding with candidates and clients, so use your best judgment when you feel something is amiss.

Janky Photoshop
Pay close attention to the look of logos in any emails you get from a job listing. Is there a strange blur or choppy look to any images scattered throughout? Does the email show a lack of cohesiveness to the look in some way? A well-established and legitimate organization invests money in enlisting professionals to design and create their graphics, so poor photoshop is a major red flag.
Email address of the point of contact is not the correct domain/format for someone at that company.
If they are reaching out on behalf of a company, they should not be using an email address from Gmail, Outlook, Yahoo, etc. They should be contacting you with their official company email. Check online to make sure their official email matches the email addresses that their company uses.
All correspondence done through text messages
If a recruiter or company corresponds exclusively through text or chatting apps like Whatsapp, Signal, or Telegram, it is very likely a scam. Many chatting apps use end-to-end encryption, making it difficult to track down the source. A real company worth working for will not conduct an interview via text messages or online chats. If the recruiter or hiring manager is refusing to speak with you over the phone or through a video interview, it is in your best interest not to engage.
The salary is above market norms
Websites like Indeed and Payscale will give you an average salary for various job titles in different cities within the United States. If a salary seems too good to be true, it probably is. Businesses rely on profit gains, so they're not going to do something ill-advised like listing a job posting at double the average rate. Scammers advertise eye-catching rates to get you to focus on the dollar signs and ignore the other red flags.
Interviews only focus on personal information, not technical or skills.
If you're being interviewed for a job requiring technical skills, but they're only asking basic questions about your previous job experience and personal information, proceed with caution. Eventually you will need to do on-boarding paperwork for direct deposit when starting a job, but they should not be asking before you have even signed an official offer. Do not give them your banking details during an interview. You may also be asked to make a wire transfer, but do not do this no matter how tempting the job offer. In wire transfer scams, the company will mail you a check, ask you to deposit the check into your account, and request that you make smaller transfers on their behalf. They'll then claim that you get to keep the rest as a "bonus".
Finding information about their company is difficult
An organization should have a professional website and employees you can look up on both Google and LinkedIn. Vet these resources yourself and read their reviews for any obscurities. Make sure that any LinkedIn profiles associated with the company exhibit normal use and regular activity. If all the profiles associated with them seem very generic or eerily similar, that's a red flag. If all of their reviews posted on the same day, that is also very suspicious.

You're asked for money upfront
A job that requires upfront fees or costs is likely to be a scam. Legitimate employers typically do not require job applicants to pay for training, background checks, or any other costs associated with getting a job. In fact, employers often pay you to get trained regardless of whether you end up continuing to work for them or not.
You're asked to purchase expensive equipment upfront and send it to them for software installation
A scammer may ask you to purchase equipment or software from them as part of the job offer. They may ask you to pay for shipping costs or to send the equipment to a specific address. This is a common tactic used by scammers to steal your money or personal information. In some cases, scammers may claim that the equipment is necessary for the job, such as a special computer or software that only they provide. They may ask you to purchase the equipment from them or a third-party vendor, promising to reimburse you later. However, once you send the equipment or make the payment, the scammer may disappear or ask for more money, leaving you without the promised job or reimbursement. With remote jobs becoming more common place, a scam of this nature occurs often, so be cognizant.
It is unfortunate that there are many entities looking to predate on people who are earnestly seeking employment. With the most recent AI software, scammers now have the capability to generate human-like responses for correspondence, making them more difficult to discern from legitimate ones. That is why we must examine companies and job offers with scrutiny. It is very important to do your own research in order to protect yourself while saving time and effort in pursuing false opportunities.
Here at Intellectual Point, we provide our students with regularly scheduled workshops teaching them how to find, apply, and interview for job opportunities in the IT and cybersecurity career field. We also provide workshops on resume writing and how to optimize the use of LinkedIn.
For more information on how to get trained, certified, and employed in cybersecurity, See all of our Blog Posts
10 Things to Avoid When Talking to a Recruiter
Tips on Becoming a Better Interviewee
Top Tips on Interaction with Recruiters on LinkedIn