Help Has My Phone Been Hacked?!?!
Smartphones are the main hub of our online lives from email to banking. They never leave your side and are a perfect target for hackers. Malware continues to find a way in no matter how hard Google and Apple try to prevent it.  Over half of mobile malware apps "hide" on a device, without a home screen icon, hijacking the device to serve unwanted ads, post bogus reviews, or steal information that can be sold or used to hold victims to ransom, according to the McAfee 2020 Mobile Threat Report.
It is so important to be careful about what you download or click on via email or messages. You should always use the official app store like Apple App or Google Play.
Spyware is what most people think about from movies and action-packed thrillers. It could be downloaded by those well-known to the victim. This spyware can monitor everything that occurs on the device.

6 Signs your phone may have been hacked
Battery Life is Decreased – A smartphone that has been compromised by malware may start to display a significantly decreased lifespan. The malware or spy app may be using up phone resources to scan the device and transmit the information back to a criminal server.
Sluggish Performance – Is your phone frequently freezing or do applications keep crashing? Do your applications not close or is your phone crashing? This could be malware overloading the phone's resources or clashing with other applications.
High Data Usage – A unusually high data bill at the end of the month could be from malware or spy apps running in the background.
Outgoing Calls or Texts you Didn't Send – This is a big red flag and you need to be careful. These could be premium-rate numbers that land the cyber-criminals big proceeds.
Pop-Ups – Not all pop-ups mean you have been hacked however constant pop-ups are different. Don't click on them or download anything!
Unusual Activity on Any Account Linked to your Smartphone – If a hacker has access to your phone, they also have access to its accounts. Keep an eye on your accounts and if you see any unusual activity you could have been hacked!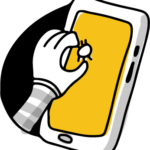 The 12 main ways your phone can be hacked are Spy apps, Phishing messages, Unauthorized access to iCloud or Google account, Bluetooth hacking, SIM swapping, Hacked phone camera, Apps that over-request permissions, Snooping via open Wi-Fi networks, Apps with weak encryption, SS7 global phone network vulnerability, Malicious charging stations, and Fake cellular towers.
Check to see if your email or phone is in a data breach