Certified Cloud Security Professional (CCSP) Certification Exam Changes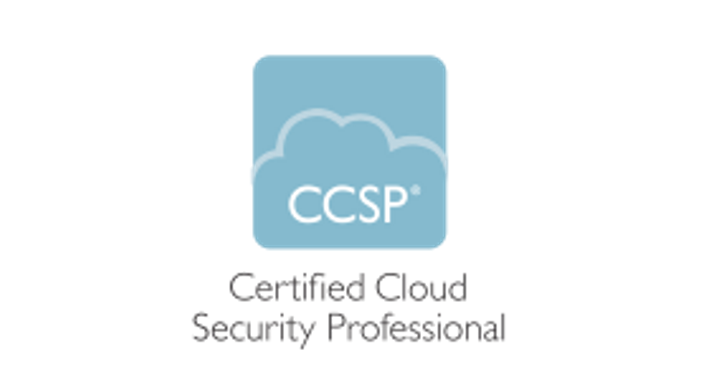 Effective August 1, 2019, the first update that has been made to the Certified Cloud Security Certification (CCSP) exam since its inception in 2015. (ISC)² – the world's largest nonprofit membership association of certified cybersecurity professionals – announced domain refreshes to its CCSP certification exam. The enhancements are the result of a rigorous, methodical process that (ISC)² follows to routinely update its credential exams.
"Our duty to our certified members necessitates regular assessments of our certification exams to ensure that they cover topics that are relevant and reflective of the current roles and responsibilities undertaken by cybersecurity professionals," said Casey Marks, chief product officer and vice president, (ISC)².
The growing popularity of the CCSP certification has been well-documented. In January 2019, Certification Magazine recognized it, for the fourth year in a row, as the "Next Big Thing" in its annual salary survey. The magazine's survey respondents reported that the CCSP would be the most-pursued certification by security professionals in 2019, just ahead of the CISSP certification. (ISC)² research in 2018 showed a similar trend, with the CCSP and CISSP cited as the most sought-after security industry certifications globally last year.
The CCSP Certification Exam Outline can be viewed here: https://www.isc2.org/Certifications/-/media/ISC2/Certifications/Exam-Outlines/CCSP-DCO. An updated Official (ISC)² CCSP Training Course will be available starting on October 1, 2019.
How is the Certified Cloud Security Certification (CCSP) Exam Changing?
If you are looking for CCSP exam changes? The content of the CCSP has been refreshed to reflect the most pertinent issues that cloud security professionals currently face, along with the best practices for mitigating those issues. Some topics have been updated while others have been realigned. The result is an exam that most accurately reflects the deep knowledge and hands-on experience with cloud security architecture, design, operations, and service orchestration.
Certified Cloud Security Certification (CCSP) Examination Information
The exam time is being shortened from 4 hours to 3 hours. The test length of 100 operational items and 25 pretest items remains unchanged. The decision to shorten the test time for the CCSP exam was made to standardize test time across all (ISC)² exams. (ISC)² provides reasonable and appropriate accommodations for people who have demonstrated a need for test accommodations. If you wish to request an accommodation, you need to complete a request form and return it to (ISC)² prior to registering for your exam to membersupport@isc2.org
Experience Requirements
Candidates must have a minimum of 5 years cumulative paid work experience in information technology, of which 3 years must be in information security and 1 year in 1 or more of the 6 domains of the CCSP CBK. Earning CSA's CCSK certificate can be substituted for 1 year of experience in 1 or more of the 6 domains
of the CCSP CBK. Earning (ISC)2's CISSP credential can be substituted for the entire CCSP experience requirement.
A candidate that doesn't have the required experience to become a CCSP may become an Associate of (ISC)2 by successfully passing the CCSP examination. The Associate of (ISC)2 will then have 6 years to earn the 5 years required experience. You can learn more about CCSP experience requirements and how to account for part-time work and internships at www.isc2.org/Certifications/CCSP/experience-requirements.