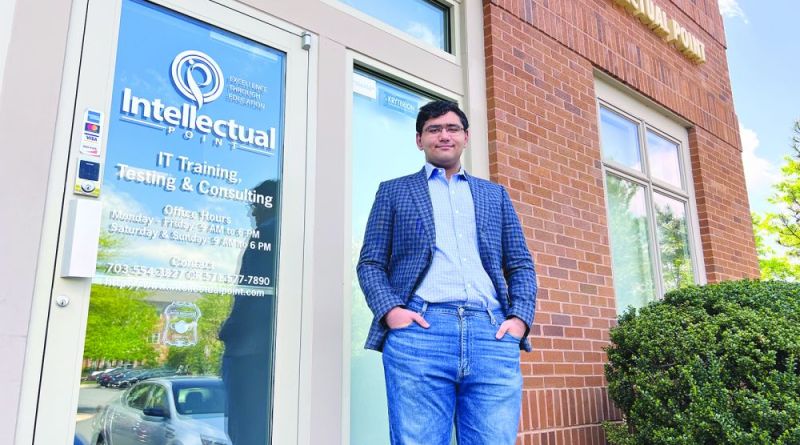 Ishan Jadhwani – Tech Wunderkid – Featured in Loudoun NOW
Ishan Jadhwani is the senior Director of Technology Services at Intellectual Point. Ishan is only 16 years old and is a junior in high school and also balances two cyber security jobs.
"It's a huge passion for me. To be honest the work doesn't feel like work. If I could work on it every minute, if school wasn't there, I would do so," he said.
Ishan teaches UiPath Build-A-Bot session at Intellectual Point for the IRS, the DIA, the DHS, and CIA employees. He teaches them about Robotic Process Automation, Network Penetration Testing, and other cyber security protocols.
"Ishan is a phenom," his former teacher Jenifer Marden said, recalling him as a freshman in her cyber security class two years ago. "Here's this 14-year-old kid bringing real-life examples into the classroom, telling us about how he does bug bounties for fun."
Jadhwani holds 15 cyber security certifications, including the highly sought-after CompTIA Security+ and Amazon Web Services Certified Solutions Architect certifications.
"I was probably one of the youngest if not the youngest to get that one. And once I got that it was very motivating to go for other certifications," he said of the Amazon credential.
As you know Ishan's parents (Prem and Neeta) own and operate Intellectual Point, an IT solutions and training company for the education industry where Jadhwani works after school, leading a team of 10 programmers. He balances his role as senior director of Technology Services with a part-time gig at Government Acquisitions Inc.
"I go into a fully armed data center and manage the lab there. It's a lot of work, but I really have to allocate having goals and milestones and have a calendar that I keep consistent with," he said. "Some days I'll get off my job at Intellectual Point around 9 p.m. and stop by the data center to rack some servers."
We are so proud of Ishan and can't wait to see what he does next!