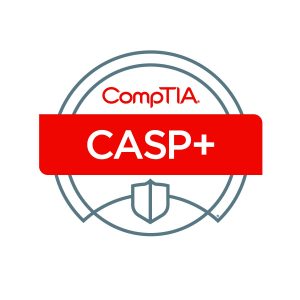 Sign up for CompTIA CASP+ class that starts on November 29th and save $1,200!
$2199  only $999
This deal is only for these dates: November 29, 30 December 1, 2, 3 (6 pm – 10 pm)
Use Promo Code: Nov-Flash-CASP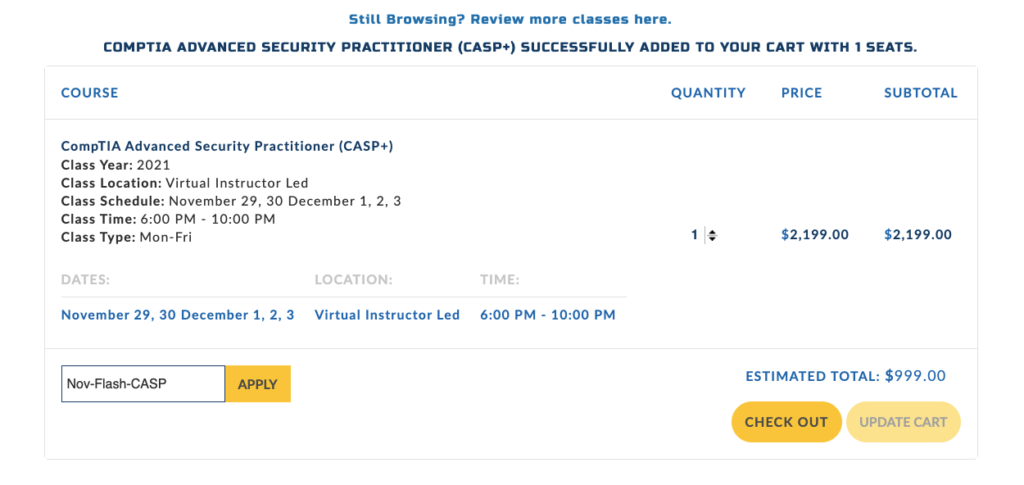 About CompTIA CASP+
The CompTIA Advanced Security Practitioner (CASP+) certification designates IT professionals with advanced-level security skills and knowledge. The CASP certification is an international, vendor-neutral exam that proves master-level competency in enterprise security, risk management, research and analysis, and integration of computing, communication, and business disciplines.
CompTIA Advanced Security Practitioner (CASP+) is the ideal certification for technical professionals who wish to remain immersed in technology as opposed to strictly managing. 
The CASP+ certification validates advanced-level competency in risk management, enterprise security operations and architecture, research and collaboration, and integration of enterprise security. The CASP+ exam covers the following: 
Enterprise security domain expanded to include operations and architecture concepts, techniques, and requirements

 

More emphasis on analyzing risk through interpreting trend data and anticipating cyberdefense needs to meet business goals

 

Expanding security control topics to include mobile and small-form-factor devices, as well as software vulnerability

 

Broader coverage of integrating cloud and virtualization technologies into a secure enterprise architecture

 

Inclusion of implementing cryptographic techniques, such as blockchain, cryptocurrency, and mobile device encryption

 
CASP+ is compliant with ISO 17024 standards and approved by the US DoD to meet directive 8140/8570.01-M requirements. Regulators and governments rely on ANSI accreditation because it provides confidence and trust in the outputs of an accredited program. 
Learn More About CompTIA CASP+
Call us at 571-577-7890 or 703-554-3827 and ask about the "CompTIA CASP+ Flash Sale" deal to take advantage of this opportunity!
---
The customer must speak to a staff member at 571-577-7890 or 703-554-3827 and verify that the course they want is eligible for this CompTIA CASP+ Flash Sale promotion. Lack of doing so will result in no promotion at all. The offer applies only to November 29, 30 December 1, 2, 3 CompTIA CASP+ Flash Sale and does not apply to test vouchers. Courses/Classes eligible for this promotion must be confirmed by a representative at Intellectual Point. All purchases are final at the time of registration. Any changes that occur following the original registration may be subject to an additional fee. Payment cannot be applied retroactively to this date range. And this purchase may not be combined with other offers or cannot be stacked with any other deals.