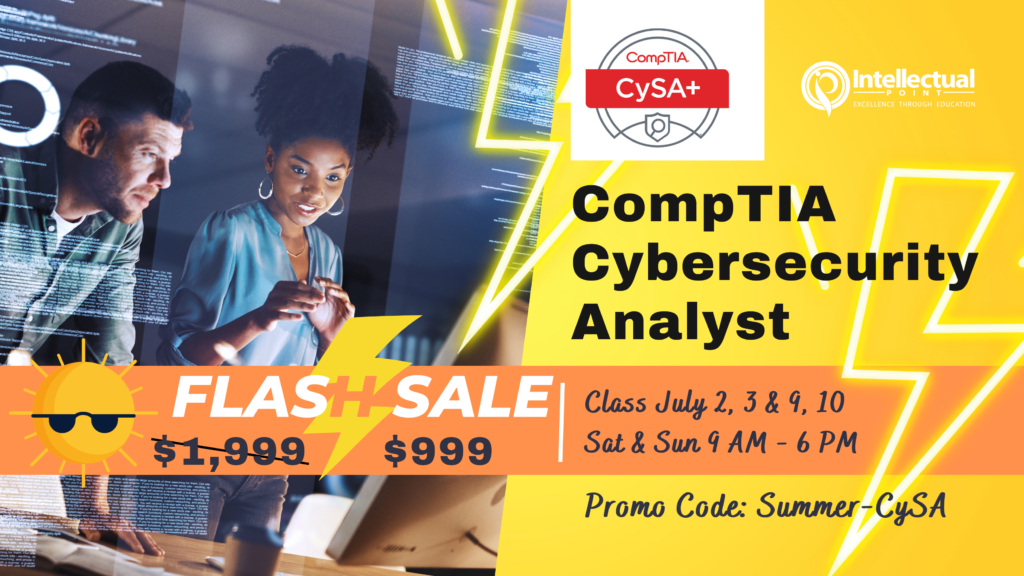 CompTIA CySA+ Summer Flash Sale!
Take the CompTIA Cybersecurity Analyst (CySA+) Class ($1,999) for ONLY $999.
CompTIA CySA+ Class Dates: July 2022 2, 3 & 9, 10 • 9:00 am – 6:00 pm
Promo Code: Summer-CySA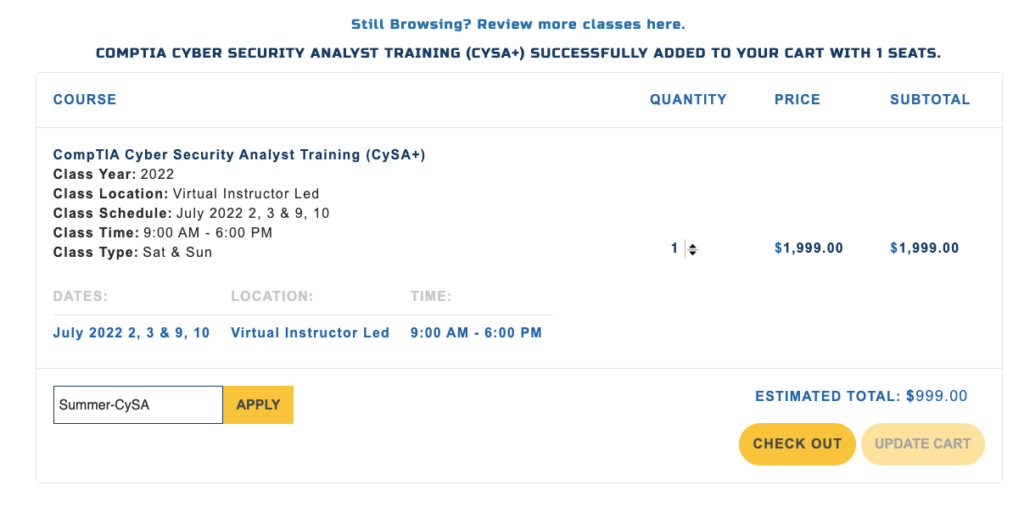 The CompTIA Cybersecurity Analyst (CySA ) certification is a vendor-neutral IT professional certification that validates knowledge and skills required to configure and use threat detection tools, perform data analysis, interpreting the results to identify vulnerabilities, threats, and risk to an organization with the end goal of securing and protecting applications and systems within an organization.
The CySA certification applies behavioral analytics to the IT security market to improve the overall state of IT security. Analytics has been successfully integrated into the business intelligence, retail, and financial services industries for decades. Analytics are now applied to IT security.
CySA is the only intermediate high-stakes cybersecurity analyst certification with performance-based questions covering security analytics, intrusion detection and response. High-stakes exams are proctored at a Pearson VUE testing center in a highly secure environment. CySA is the most up-to-date security analyst certification that covers advanced persistent threats in a post-2014 cybersecurity environment.
Learn More About CompTIA CySA+
---
---
The customer must speak to a staff member at 571-577-7890 or 703-554-3827 and verify that the course they want is eligible for this CompTIA CySA+ promotion. Lack of doing so will result in no promotion at all. The offer applies only to the CompTIA Cybersecurity Analyst (CySA) • July 2022 2, 3 & 9, 10. Courses/Classes eligible for this promotion must be confirmed by a representative at Intellectual Point. All purchases are final at the time of registration. Any changes that occur following the original registration may be subject to an additional fee. Payment cannot be applied retroactively to this date range. And this purchase may not be combined with other offers or cannot be stacked with any other deals. This does not include the exam vouchers.