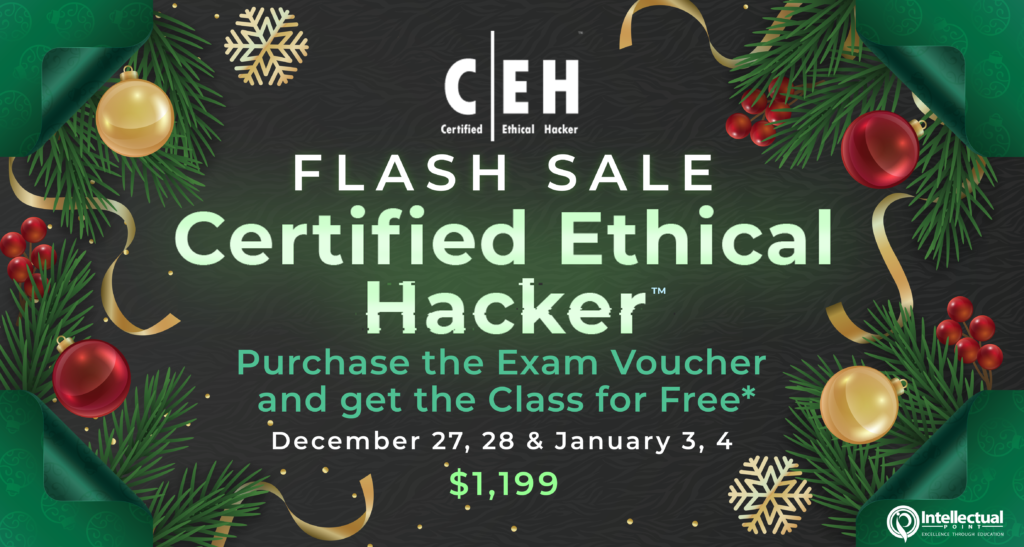 Certified Ethical Hacker (CEH) Course + Exam
Pay $0 for the course. Only Pay for the Exam (Standard Rate).

Purchase the CEH Exam Voucher through Intellectual Point for
$1,199

and get the class for free!

This is a savings of $2,199!

The Exam Fee for Certified Ethical Hacker is $1,199 (Standard Exam Voucher Fee). We are waiving our $2,199 Course Charge to $0.

The deal is only valid if you purchase the exam voucher through us! We do not accept externally purchased vouchers.
Please be sure you have access to a laptop to attend the class dates via Microsoft Teams!
This deal is only available for these dates:
December 27, 28, 2021 & January 3, 4, 2022 (9 AM – 6 PM)
Coupon Code: CEH-winter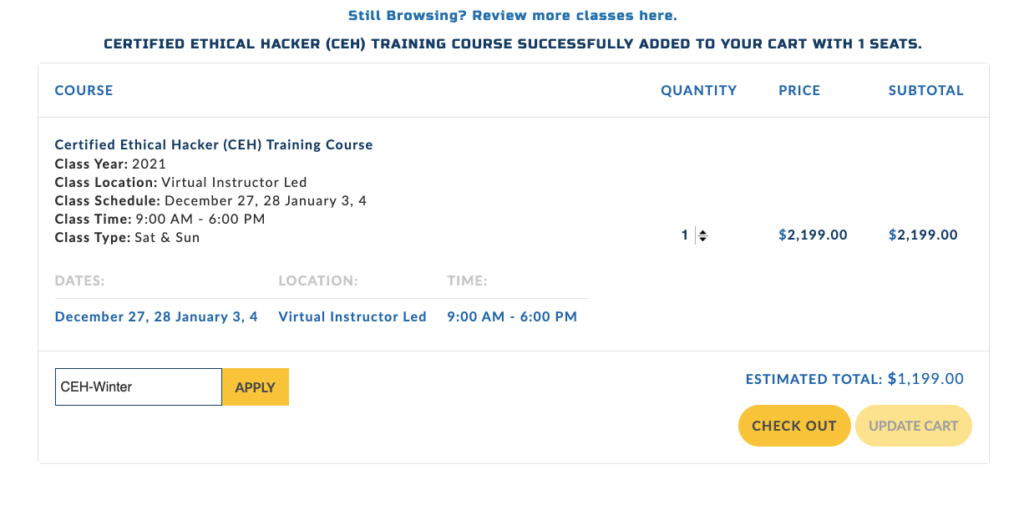 CERTIFIED ETHICAL HACKER (CEH)
A Certified Ethical Hacker is a skilled professional who understands and knows how to look for weaknesses and vulnerabilities in target systems and uses the same knowledge and tools as a malicious hacker but in a lawful and legitimate manner to assess the security posture of a target system(s). The CEH credential certifies individuals in the specific network security discipline of Ethical Hacking from a vendor-neutral perspective.
The Certified Ethical Hacker (CEH) is a core training program for an information security professional, also referred to as a white-hat hacker, who systematically attempts to inspect network infrastructure with the consent of its owner to find security vulnerabilities which a malicious hacker could potentially exploit. The course helps you assess the security posture of an organization by identifying vulnerabilities in the network and system infrastructure to determine if unauthorized access is possible. The Certified Ethical Hacker program is the most comprehensive Ethical Hacking program in the world.
CALL  571-577-7890 OR 703-554-3827 AND ASK ABOUT THE "
CEH Class Flash Sale

" DEAL TO TAKE ADVANTAGE OF THIS OPPORTUNITY!
---
The customer must speak to a staff member at 571-577-7890 or 703-554-3827 and verify that the course they want is eligible for this CEH Flash Sale promotion. Lack of doing so will result in no promotion at all. The offer applies only to the December 27, 28, 2021 & January 3, 4, 2022  sessions. The CEH Exam Voucher must be purchased through Intellectual Point. Courses/Classes eligible for this promotion must be confirmed by a representative at Intellectual Point. All purchases are final at the time of registration. Any changes that occur following the original registration may be subject to an additional fee. Payment cannot be applied retroactively to this date range. And this purchase may not be combined with other offers or cannot be stacked with any other deals.