Flash Sale on (Big Data) Splunk Core Certified User  Class and Exam Voucher

Sign up for the (Big Data) Splunk Core Certified User Class and Exam Voucher for only $1,699! That is a savings of $625!
This deal is only available for this date:
November: 6, 7 & 13, 14 (9:00 AM – 6:00 PM)
Use Promo Code: SPLUNK-FALL-21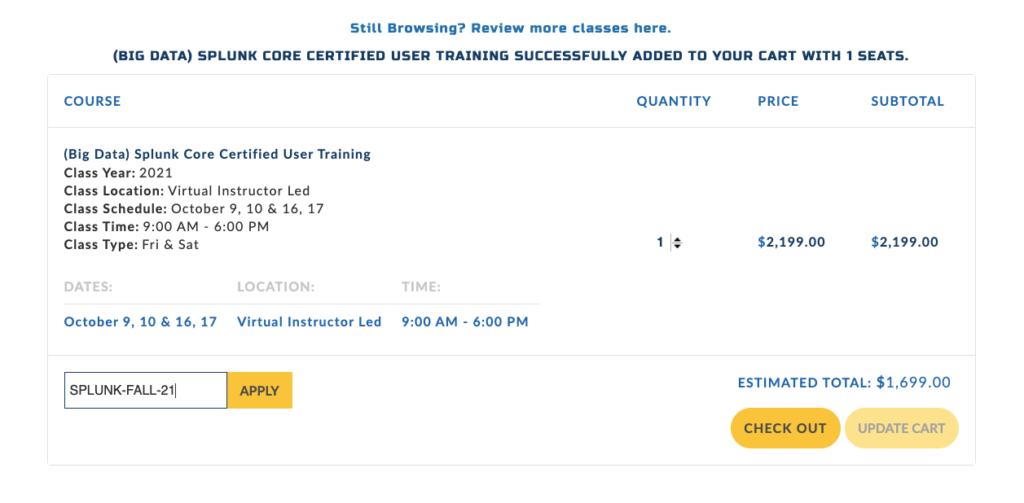 (BIG DATA) SPLUNK CORE CERTIFIED USER
This course is designed for the beginner to intermediate-level Tableau© and Splunk® users. The course will help you understand the important concepts and techniques used in Tableau© to move from simple to complex visualizations and learn how to combine them in interactive dashboards. You will learn how the Splunk software indexes, manages, and enables you to search for data from any application, server, or network device in real-time.
Quickly improve your Tableau© Splunk® performance and skills through our training program that helps you master the software and learn how to put it to work for you and your organization. Learn from our experts, and get the most out of your BI tools.
Learn More About Big Data Splunk
CALL US AT 571-577-7890 OR 703-554-3827 AND ASK ABOUT THE "Splunk Class & Exam Voucher Flash Sale" DEAL TO TAKE ADVANTAGE OF THIS OPPORTUNITY!
---
The customer must speak to a staff member at 571-577-7890 or 703-554-3827 and verify that the course they want is eligible for this Splunk Flash Sale promotion. Lack of doing so will result in no promotion at all. The offer applies only to the October: 9, 10 & 16, 17 or November: 6, 7 & 13, 14 sessions. Splunk Class & Exam Voucher Flash Sale and includes one exam voucher but it must be used within a month of completing the class. Courses/Classes eligible for this promotion must be confirmed by a representative at Intellectual Point. All purchases are final at the time of registration. Any changes that occur following the original registration may be subject to an additional fee. Payment cannot be applied retroactively to this date range. And this purchase may not be combined with other offers or cannot be stacked with any other deals.