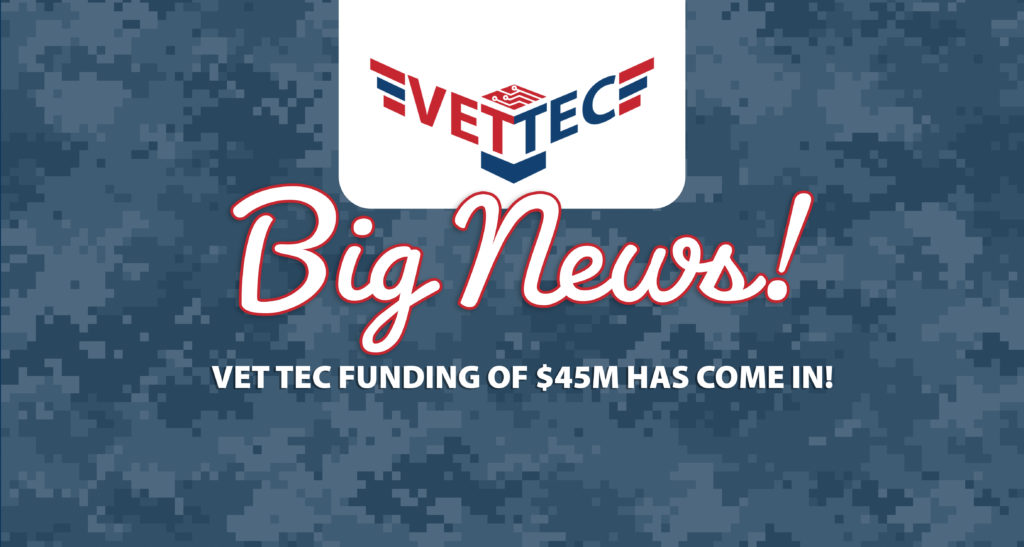 BIG NEWS! VET TEC Funding of $45M Has Come In!!
We have some exciting news! The president signed the HR7105 Bill yesterday, the Bill that includes the VET TEC Expansion Act. This Bill expanded the funding for Veteran training from $15M to $45M. We will have classes starting as early as April!
VET TEC is an acronym for Veteran Employment Through Technology Education Courses.  This is a program offered under the direction of the Veterans Administration that will pay for Veterans to get training in technology jobs without consuming their GI Bill® benefits. This program is an alternative to the Post-9/11 GI Bill®, with a focus on getting Veterans into flexible, in-demand, high-paying careers like, e.g., information security and software coding. As per the Department of Veterans Affairs website, Intellectual Point is listed as a VET TEC Training Provider.
---
Here is what you need to do!
Review the Career Pathways or Individual Classes
Review the calendar
Call us at (703)554-3827 or (301)704-9342 and register!
---
Here are the Career Pathway Programs starting in April:
Here are the single courses starting in April:
---
You should enroll in the VET TEC Program Today!
In order to be eligible for the VET TEC Program, Veterans must submit an application to the VA. Even if a Veteran is not sure if they are eligible for the VET TEC Program, they should apply at:
---
Helpful information on what to expect after you have applied with the U.S. Department of Veterans Affairs
They usually process claims within 30 days.
They might contact you if they need more information
You will get a confirmation with a confirmation number, the date it was received, and where the claim was sent. (Be sure to save this!)
They decide on applicants within 30 days
You will get a Certificate of Eligibility (COE) or decision letter in the mail.
If you are approved you can bring the COE to Intellectual Point.
Call us at (703)554-3827 or (301)704-9342 and register!